/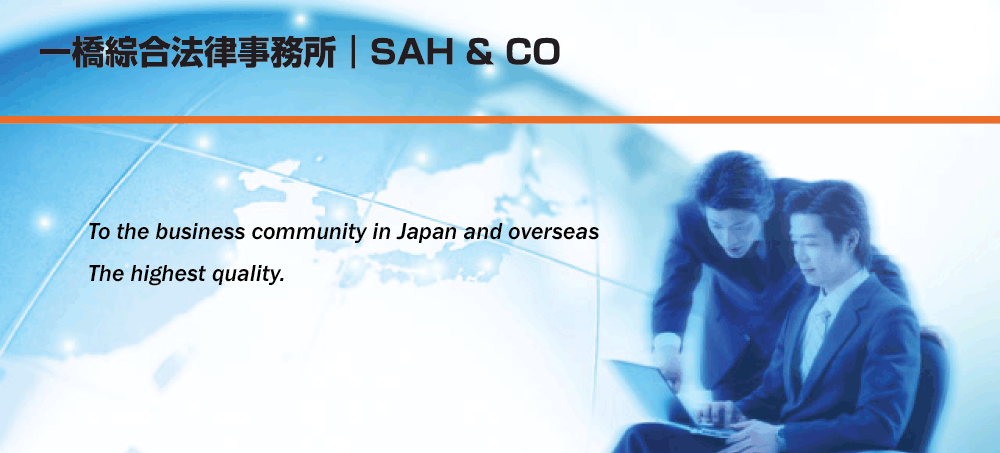 SAH&Co. was established by the three founding partners in 1990 as Shimada, Seno & Amitani. The firm has continued to expand with the admission of additional partners, and the name was changed to SAH&Co. in 1995. Currently the firm's legal staff consists of 10 Japanese lawyers and one legal associates. All members are fluent in English and Japanese.
 The firm prides itself in offering a wide range of professional legal services including banking and finance, competition and trade regulation, corporate and commercial, entertainment, insolvency, intellectual property, investment and commodities funds, litigation and arbitration, mergers and acquisitions, project finance, real property, shipping and insurance, taxation and trusts. The firm's clients include both foreign and domestic enterprises, including banks and other finance houses, charitable foundations, commodities dealers, entertainment organizations, insurance companies, manufacturers, real estate developers, retail stores, schools, securities and investment companies, shipping companies, trading companies and venture capital firms.
 The firm maintains a strong network of informal links with other prominent law firms throughout Japan and Asia. The firm is also affiliated with a leading Tokyo accountancy.
 Members of the firm are actively involved in the community through membership of professional and other associations including bar association committees and chambers of commerce. The firm's of-counsel are former presidents of the Tokyo Bar Association and the Dai-ichi Tokyo Bar Association, respectively. Makoto Shimada, a partner of the firm, has lectured in commercial law at Keio University.
---
Copyright © 2013 SAH&Co., All rights reserved